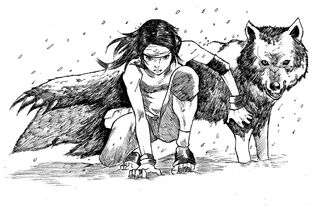 Inessa (last name unknown) was born in Russia to a family so poor they could not afford to raise her.  Instead, they threw her to the wolves which raised her up to adolescence.  She is super agile...and she barks.  Those who have seen her in action describe her as "unbelievably" fast.  
Although most feral children show a severe lack of ability to cope or adjust even after brought from the wild, Inessa adapted slowly but surely and became a functioning person while retaining her feral instinct.
Inessa gained brief popularity in the United States shortly before G-Day.  It is unknown how or why she came to the US or where she went during the societal reset following the creep.  In 2016, it was reported that Inessa the Wolf-Child was being transferred to the custody of the Convict State.   
This news attracted the attention of the Tourist, who had always been intrigued by her case.  He admired her purity of spirit and took issue with her status as a prisoner of Western science. At the end of "Oakwood: Urban Decay," he boarded a train for Scottsdale.
This storyline continues in the upcoming chapter "Oakwood: Inessa."