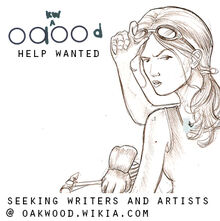 Oakwood Anthology is seeking artists and writers to join the project. If you'd like to become a member of the team, there are many ways to contribute.
For Artists
Edit
Articles currently without artwork
Edit
Many pages on this wiki are lacking original artwork. You can find the list here. These are paid jobs. After you read over the jobs, choose one you are interested in and send a few samples of your work to the staff along with your requested fee. They'll provide you with any information you need for the job and negotiate a price.
Contest Jobs
Edit
There are six ongoing contests.
Or you could design a custom vehicle. Only the top two designs will get a prize; however, all legitimate entries will be entered into the Oakwood database for inclusion in later stories.
The last contest does not have a cash prize but the reward is something much better. The artist who submits the best random piece of artwork, inspired by any part of the Oakwood Universe, gets to decide the real name of major villain Papercut.
Odds and Ends
Edit
This wiki needs a custom background.
Any character updates/redesigns welcome. If you want to draw one of the characters, just ask for the file first and we'll send you any relevant info or previous drawings.
Send an illustration pro bono! It's a great way to showcase your work, grab five easy story votes and place yourself in a position to illustrate for Oakwood Anthology.
For Writers
Edit
We've got a seasonal writing contest underway. Other options for writers will be available soon but we're just getting started now. However, if you have an idea, don't hesitate to tell us about it. We're always listening.