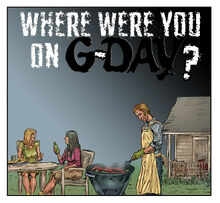 The first writing contest concludes November 1st, 2015. The topic for this season:
WHERE WERE YOU ON G-DAY? Edit
This round explores one of the most important events in the Oakwood Universe: the explosion of the National Fuel Reserve in Rosepetal, Kentucky. It is the ultimate kick-off event. It precedes the spread of the creep and eventually causes the sky to turn green.
Write a story about yourself or create an original character. The stories must be told in third person and written in English. All qualified submissions will be included in Oakwood Omnibus Volume #1, to be published in 2016. Story length should be 2 - 22 pages and end with the explosion, 4:08 PM EST, Thursday December 20th 2012.
Please send your submissions to the staff before November 1st.
The top 10 best stories receive a free copy of Oakwood Omnibus and 25 story votes. The grand prize winner gets $100 as well as an invitation to write an upcoming chapter of Oakwood Anthology.
Suggested reading
Edit
Here are a few pages you should read before getting started.
These pages contain the information most crucial to the topic but feel free to poke around for more inspiration. Keep in mind that the National Fuel Reserve and the explosion of the surrounding area of Petropolis are much larger than seen in the current picture. Also, the term G-Day wasn't applied until much later so it shouldn't be in the story. If you have any questions, just email us. Good luck!